About LSRC and its History
Founded in 2007, Lake Sunapee Rowing Club (LSRC) is dedicated to providing rowing opportunities to individuals of all ages, abilities, and experience within the communities surrounding Lake Sunapee, New Hampshire.
The sport of rowing is a non-impact activity that involves all of the major muscle groups and can be enjoyed for a lifetime. Rowing provides physical fitness, enhances skills in teamwork and leadership, can improve mental discipline, and team camaraderie.
Since 2008, several hundred people have participated in rowing in the Lake Sunapee area thanks to LSRC programs. In addition to Mentoring, Intermediate, and Advanced programs, LSRC offers Adaptive Rowing opportunities as well.
The LSRC fleet includes beginner and advanced singles and doubles which are available for sculling lessons or daily use, as well as quads, fours and an eight.
The club has entered area regattas, including the New Hampshire Championships, and the Methuen City Sprints. Adaptive rowers have also participated in the Bayada Regatta in Philadelphia.
LSRC is led by an active volunteer Board of Directors.
Social Events
Each rowing season LSRC organizes several popular social events. A "Back on the Water" party is followed by a "Rowers' Breakfast"". Later in the season is the "Harvest Dinner", and an end-of-season GALA and Silent Auction. The Silent Auction offers a variety of items and services donated by merchants, members, and friends of the club. This fundraiser supports our scholarship fund and equipment upgrades. An off season "Valentine's Dinner" allows members a great reason to stay in touch. As well, there are spontaneous gatherings throughout the season.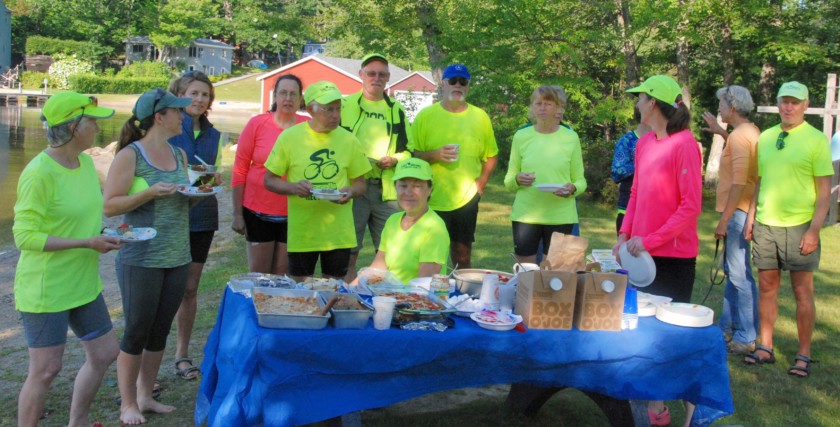 Annual Gala Fundraiser
The club's major annual fundraiser, our Annual Gala and Silent Auction, is held in November
Support LSRC
Funding for Lake Sunapee Rowing Club comes from member fees, fundraising activities, and donations. Donations are accepted at any time using Paypal.
Scholarship Fund
We provide financial relief to any rower unable to afford their programming fees. Contact Brenda for more information.