Our Intermediate and Advanced programs are appropriate for:
New rowers who have completed our mentoring program
Those who have rowed before, but not extensively
Those who haven't rowed for a number of years
Experienced rowers who would like to compete in regional races
Any level rower that wants to work on rowing technique and conditioning
If you are unsure which program is right for you, please contact us.
Practice
The only way to improve your rowing is to practice, practice, practice. The emphasis in the Intermediate and Advanced programs is to provide time to develop rowing technique and timing with others in the boat. Although there is a conditioning component in Intermediate program, it is less intense than in the advanced group.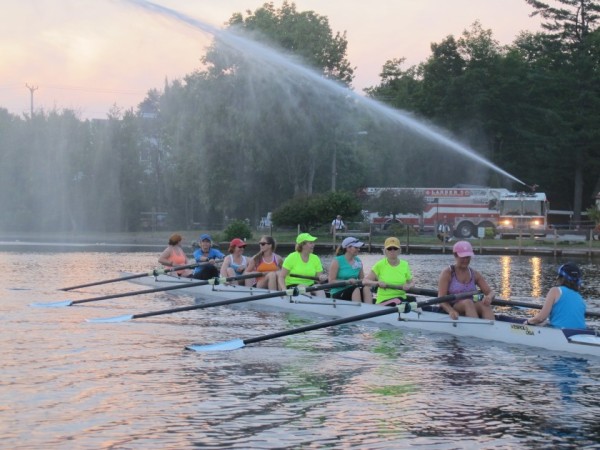 Even if you choose to row in a recreational program, there are numerous opportunities available throughout the season to compete in regattas.
Schedule
Several recreational rowing sessions are offered throughout the season. We utilize a variety of boats and you will have the opportunity for both sweep rowing and sculling. Participants in all programs should also plan on taking turns in the coxswain's seat depending on experience..
Recreational programs generally take place Tuesday and Thursday evenings and Sunday mornings. The 2023 schedule is as follows:
Session 1: Jun. 6 – Jul. 2
Session 2: Jul. 5* – Jul. 30 (*Start date adjusted for the Independence Day holiday)
Session 3: Aug. 1 – Aug. 27
There is a fee for each 4 week session. Please note you can register for a recreational program without making the commitment for full-fledged club membership by choosing the Non-Member option.  See Registration for more details.
Time Commitment
Because of the variety of shells we have available, we can make adjustments as needed if you are not able to attend a particular practice during the session. You are expected to give the coach advance notice if you are not able to attend a particular practice. If your schedule does not permit you to attend all days of the session, please note that at the time of your registration. We can accommodate work or vacation schedules.
Drop-In Rates
Rowers not registered for a session may drop-in at any practice, as room allows, for $20/practice. Prior notice of at least 24 hours is appreciated.